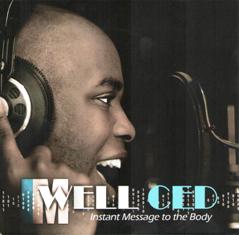 Tell us a little about your family.
I am the second oldest of six kids-five boys and one girl. I am married to a great singer/songwriter, Nicole White. We have two kids: Micah and Abrielle. My father is a UPC pastor in Georgetown, South Carolina, where I grew up.
Describe your spiritual journey. 
My family was introduced to the apostolic doctrine and joined the church when I was seven years old. Within a year, I was taught and understood the importance of daily repentance, being baptized in the name of Jesus, and the infilling of the Holy Ghost. At the age of eight, I received the Holy Ghost and was baptized in the local bay in Jesus' name!
What is your music background? 
I grew up playing the drums at my local church and listening to several genres of Christian music. At a point in my life, when I was desperate for more of God, I picked up a pen and pad to see if I could express my desire for Him through song. Shortly thereafter I wrote and recorded my very first song called, "Complete Control."  I posted it on YouTube and within months it received over 1000 views. At that moment, I figured people may want to hear more of what was on my heart. So I began to write more music.
Where do you get inspiration to write your songs?
My inspiration to write the songs I write comes from my relationship with God. This includes studying the Scriptures and my prayer time with the Lord Jesus. They also come from my experiences.
What is the concept/vision of your CD?
The concept of my recent album, Instant Message to the Body is simply that- a message to the church. The title of each track is the topic I felt the Lord led me to discuss with the body of Christ. Topics include "Purpose," "Trust You," "Moving Forward," "Individual," "Come Home," and more. The vision is to enlighten and remind the body of Christ of who they are in Christ and His plan to accomplish a lot through us as vessels if we allow Him.
What is your favorite part of the album-making process?   
I enjoy the final product of the album because of all the hard work and prayer that went into making it. I really enjoyed having an initial vision and then seeing my thoughts come together in the form of a recorded album.
Describe the nature of your ministry.
The nature of my ministry is to reach out to this generation of youth that enjoy the genre of rap music and need to hear the Gospel of Jesus Christ. My music is designed to glorify God, persuade people to live for Jesus, edify the body of Christ, and testify of what He's done in my life.
What do you feel is the most rewarding aspect of your ministry?
The most rewarding aspects of my ministry are getting to see young people come to the knowledge of Jesus Christ and make a decision to live for Him for the rest of their lives. I enjoy seeing young people who would never give Christian music a chance now hearing the gospel in the form of rap, and I also enjoy hearing of youth who have now decided to use their gifts and talents ONLY to glorify God. These are PRICELESS!
What is the best musical advice you have ever been given? 
I've heard advice like "practice makes perfect," "connect with your audience," "let God inspire your music," etc; however, because of the genre of music I do, the best musical advice I have been given is from my pastor, Ben Cooke. He said, "stay separate" (simple and sweet).  In essence, he said God's blessings for my ministry lie in my willingness to never compromise.
If you had the attention of the world what would you say? 
WOW, this is an amazing question! If I had the attention of the world I would say what I'm already commissioned to say as an ambassador of Jesus Christ: Jesus is Lord and He's coming back for a church without spot or blemish! Therefore, repent and be baptized in the name of Jesus Christ and receive the gift of the Holy Ghost. Then continue to occupy until He returns.
Who do you want to send a 'shout out' to?
With this chance to give a 'shout out', I send it to my Lord Jesus Christ; my wife, Nicole White; my parents who raised me up in Christ, Donel and Elizabeth White; and my home church, The First UPC of Conway, South Carollina; and lastly, my BOC-Music family who grind it out week after week on behalf of our youth of today!
Where can we listen, purchase, and connect with you? 
You can listen to, purchase, and stay connected to my music along with other apostolic artists on our record label at boc-music.com, or at pentecostalpublishing.com, and myhoperadio.com. My music is also on iTunes and YouTube. I am also on facebook (www.facebook.com/wellced) and twitter (@WellCED).
Thank you and God bless all of the MyHopeRadio.com listeners!