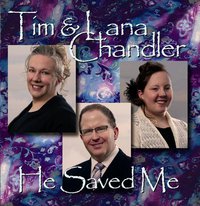 Tell us about your group.  
Our group, Tim and Lana Chandler, consists of Tim, Lana, and daughters Tiffany, sixteen years old, and Lyndsey, eleven years old. We travel in a full-time ministry of singing and preaching from our home in Greenfield, TN. We sing with a mix of soundtracks and accompaniment of Tim on keyboard and Lana and Tiffany on drum machine. Tim preaches and Lana exhorts! We are celebrating our twentieth year of ministry as Tim and Lana Chandler.
What is the one thing that motivates your group to continue to travel and minister?
We are fulfilling the calling God has placed on our lives!
How do you keep your songs from "getting old" after singing them every weekend?
The audience's reception and response keep the songs fresh! It's exciting to see how different crowds react to our ministry. Each church or concert setting is different and it adds variety to our delivery.
Tell us a funny "road story" from traveling and singing.
Lana fell up the platform steps at the Indiana campmeeting this past year! She took back those new shoes the next day! :o)
Tim had the keyboard fall to the floor right in the middle of a song!
Lyndsey's mic cord fell out while singing!
Several years ago, we were singing in Michigan at a church. Our microphone stands had gotten overlooked at the last church and didn't make the trip with us!  We borrowed stands from the church and the top of Tiffany's would not stay up! She was playing the drum machine, so both hands were busy! She had to stop playing, adjust the microphone, sing and play again. The mic would fall again and she had to repeat the process over again, several times!  Finally, someone came up and helped her at the end of the song!
There are many more stories and more details to the ones listed above that we will share when we come to your church!
What was/is the vision, purpose, and comprehensive message in your latest CD?
The theme of our latest project, He Saved Me, tends to bring forth a message of deliverance, faith, and salvation. Our song, "I've Cried My Last Tear" talks about getting victory over the enemy and not letting him overtake us! "This Time Tomorrow" speaks of faith that God can provide miraculously!
What specific themes do you cover in your songs? Why? 
Our themes cover several areas, from the Cross to daily living. People need to hear a message about how to make it through today and not just the joy we'll have when we get to Heaven. Many are living in such horrible situations down here, they would just like to make it another mile!
Do you write your own songs? 
We write most all of our own songs. A lot of times, I get an idea, begin writing, and then get with Tim and tell him to start playing something on the keyboard! That's how most of my songs come. Tim usually does his own songs with me putting in a word or two. Our fourteen-year-old daughter Tiffany is also a tremendous songwriter. She wrote her first song at age seven. She wrote two of the songs on our latest project and is planning on recording her own solo album by the end of the year. Also, my father gives me many "hook lines" and I go from there! He is to credit for the two of our title cuts from two projects, "He Will Come Through" and "He Saved Me."
What do you feel is the most rewarding aspect of your ministry?
Seeing souls uplifted, renewed, restored, and receiving the Holy Ghost for the first time is the greatest reward! There is nothing more rewarding than praying with someone who receives everything they have been asking God for! Our ministry focuses on reviving and encouraging people and our motto is, "Music and Ministry for Life!"
What is one of your musical dreams or goals that you would love to see come to pass?
We want to see our ministry expand to more than 200 dates a year.
Fun Stuff
What would your group do with a million dollars?
Pay tithes and give to missions! :o) Then buy a bus, record a couple of more projects, buy a house, buy Tiffany a car, and hit a ton of discount stores!! :o)
If you had to change your band name, what would it be?
The Chandlers
What country would your group like to have a concert in?
Australia
What is one of Tiffany's goals?
To play the drums on an IBC recording while she's attending there in a couple of years!
What is one of Lyndsey's goals? 
To be a music director in Groves, Texas after Bible College, someday!
Who do you want to send a 'shout out' to? 
To all of our friends and family who pray for us and support our ministry.
Where can we listen, purchase, and connect with your group?
www.timandlanachandler.com, Facebook.com/timandlanachandler, pentecostalpublishing.com, Youtube, and Twitter@timlanachandler.