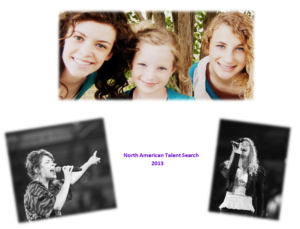 Tell us about your group.
We're just two southern girls, based out of a little Texas town. We will soon be joined by our youngest sister, Ciera. Though we are all sisters, we are about as opposite as siblings get. There is a vast difference in our personalities, interests, and physical attributes, but the one common thread we all share is a love for God and music. Even through our love for music, we each have different tastes. This is why our album contains such stylistic diversity. Yet, through our differences, we have learned to compliment each other's strengths and better each other's weaknesses.
Tell us a little about the church from which your group is based.
We are blessed to be the daughters of Donovan and Sheri Burkett, who pastor First Church of Fort Worth. First Church is a multi-cultural, multi-lingual, multi-generational, and multi-location congregation. The vision of FCOFW is to be a twenty-first century Apostolic church in principle, practice, and power. Our mission is to love all, give all, serve all, teach all, that we may reach all!
What is your group's music background?
We definitely agree that our biggest influence and inspiration has been our father. From the time we were infants, he breathed music into our souls. In fact, while Sheradon (the eldest) was being born, he was playing a Kirk Franklin VCR tape in the delivery room. Since that first introduction to music, he has continued to mentor and guide each of us. We can remember staying up late into the night, just to jam and write songs, most of which made no sense. Though we didn't realize it at the time, these experiences were preparing us for days to come. In truth, we owe every accomplishment we've achieved to our wonderful fathers, earthly and heavenly.
You were finalists in the North American Talent Search 2013; tell us about your experience.
To be honest, it still feels like a bit of a dream. To be able to impact so many people was one of the most humbling experiences we've ever had. We can't begin to describe how thankful we are to have been given that opportunity.
What is the vision, purpose, and comprehensive message in your latest CD?
Throughout all of our songs, the underlying link is basically that we are stronger than the enemy. In a world full of iniquity and sin, we choose to worship our God. It's our declaration to the world that there is an alternative to the carnality in which society is trying to engulf us. As teens in today's culture, we feel the pull of the enemy just as much as anyone. The album is our attempt at providing strength to teens just like us.
All the songs on your CD are original. What were the inspirations of the songs and what is the process for writing?
The songs on the album are a compilation of different struggles and victories experienced over many years. The earliest written song on the album was "Majesty" written by Sheradon in 2007, at the age of nine. As Kenley grew older, she developed a knack for melodies, taking our song writing to a new level. There really is no cookie cutter way of writing a song. Each time we write, we try to follow the voice of God and pen what He would put in our heart.
What is your group's favorite part about the "album making" process?
Our favorite part would definitely be our amazing producer, Derrick Horne. He made everything so lighthearted and enjoyable. Thanks to Derrick, our memory of studio time is practical jokes and inside laughs.
If your group had the attention of the world what would you say?
After we woke up from our fainting spell, the attention of the whole world is a pretty scary thing, we'd testify of the things God has done for us. After all, the best witnessing tool we will ever have is our testimony, because no one can argue with it, and nothing reveals the listeners' need for a Savior more!
Where can we listen, purchase, and connect with your group?
Our album, "Breakout" can be heard on myhoperadio.com and purchased on iTunes, or CDbaby.org. You can connect to us through our facebook page, by searching "The Burkett Sisters." We love to hear reviews and input from everyone, so feel free to like our page and post on our wall!
What would your group do with a million dollars?
Remember how I said we were completely different? Well, that holds true in this scenario.
Sheradon: "I would be that nerdy girl who bought $100 worth of nutella and invested the rest into an interest gaining bank account. From there, I'd donate the interest to our church building fund."
Kenley: "I've always wanted to go on a missions trip to Africa. That's what I woud do.)
To what audience would your group most like to play?
Every time we sing, it is to our Lord alone. He is the only "audience" we care to please, although we would love to be able to worship God before an influential person, who has the power to change more lives than we ever could.
What is the best advise your group has been given?
Though there is not really a single piece of advice we could necessarily quote as being the best a close first would be to keep God at the center of everything we do!
To whom does your group want to send a "shout out" to?
We would love to send a shout out to Derrick Horne and the Carroll brothers. These three people will never know how much they've helped to keep us going. Also, we want to send a shout out to everyone who has believed in us! Thank you so much for your support! It doesn't go unnoticed! We love you all!