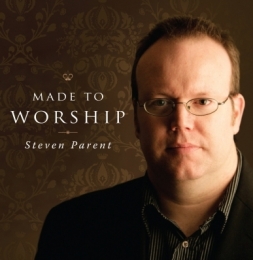 My Hope Radio: In three or four sentences, how would you describe your journey of faith?
Steven Parent: I was baptized in Jesus' name and received the Holy Ghost when I was seven years old. Even then, I felt a call on my life to ministry. My journey of faith as been very rewarding, but I've have had some bumps in the road. Our faith was tested with the birth of our first child. Reilly was born with a disability called Arthro-gryposis. We were told that he would never be able to walk and so far that has been true. He requires a lot of help with things that we take for granted every day. We still believe that God is going to heal him. We earnestly covet your prayers for his miracle.
MHR: What is your favorite Scripture in the Bible?
SP: Proverbs 30:5: "Every word of God is pure: he is a shield unto them that put their trust in him."
MHR: What is your music background? (Who influenced you, when did you start singing, etc…)
SP: I grew up in a church that was abundant in musical talent and was always immersed in it. My mother was also a major influence because when I was very young there was a piano in the house. I started singing in the children's choir at church. I then went on to learn to play the bass guitar and sing for the youth choir and eventually would play the keys for the mass choir. My other musical influences would be guys like Israel Houghton, Clint Brown, Michael W. Smith, Steven Curtis Chapman, Bryan Duncan, and bands like Petra and Whiteheart.
MHR: What specific themes do you cover in your songs? Why?
SP: Wow, there are so many. As a Christian artist the subject matter is so vast I hardly feel like I am scratching the surface. I have written about God's greatness and His mercy and grace. I guess the thread tying it all together is just my utter dependence on Him. Other themes have been His power, His love, His Glory. I also love to do songs that connect us with His presence; hopefully all my songs do that.
MHR: Do you write your own songs? (If so, discuss your usual songwriting process.)
SP: Yes, I write all of my songs. God has been very gracious to allow me to do that. The usual process if there is one, goes something like this. First, I start with a hook. A general idea I might have for a song. It could be something I have heard someone say, or a Scripture that sparks an idea. From there I usually try to develop a chorus first, trying out lyrics and melodies to see what works and what doesn't. From there I just try to develop verses and a bridge if the song needs it. After I get it all together I work with the melody and begin to figure it out.
MHR: Where can we listen, purchase, and connect with you?
SP: You can connect with me on my Facebook page which is Steven Parent Worship Music. You can also purchase my music from my website, which is www.stevenparent.com. You can also listen to my music at both of those sites.
Fun Stuff
Bagels or Donuts?
Donuts
Fruits or Veggies?
Fuits
Mayonnaise or Mustard?
Mustard
Pen or Pencil?
Pen
Elevator or Stairs?
Elevator