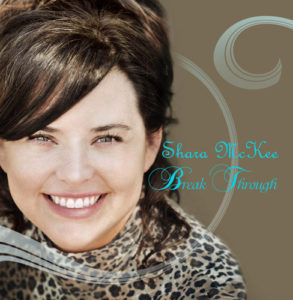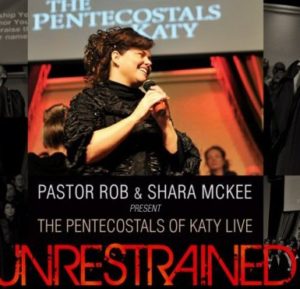 My Hope Radio: In three or four sentences, how would you describe your journey of faith?
Shara McKee: I was blessed to be born into an Apostolic home. I was raised in the Pentecostal faith and received the Holy Ghost at youth camp at age eight. I have always loved the Lord and served Him willingly. I felt called to the ministry, not knowing what that meant, but decided to dedicate my talent to Him when I was thirteen. I wasn't raised in a preacher's home, so entering the ministry was very intimidating for me, but experience is the best teacher! I have made a lot of mistakes and have gone from very naive to having heard and seen it all.  I have now been a pastor's wife for ten years in the city of Katy and can truly say that I love what I do and I am exactly where God wants me to be. My philosophy for living for God as far as my personal life goes has developed into this one principle—if there's a chance that something I do will please the Lord, then that's what I want to do. If there's a chance something I am doing or could do doesn't please Him, then I don't want anything to do with it. I don't want this "what can I get by with" mentality to enter my heart. As far as my philosophy towards other people, I want to err on the side of mercy. I forgive easily and trust easily, trying to give the benefit of the doubt whenever possible. People need a safe place to fail without fear of embarrassment, that's what families should provide, especially the family of God. Lastly, I feel that we as children of God—those who have the gift of the Holy Ghost and the revelation of who God is, should live for God and use our talents with passion and joy, always looking forward.  If this is the path you've chosen, give it all you've got! It's hard to live for God easy and easy to live for God hard!
MHR: What is your favorite scripture in the Bible? 
SM: Just one??? I think it would have to be Philippians 4:8. So much of our ability to do what God has called us to do depends on our ability to discipline our minds. II Timothy 1:7 is another one…wait there is a theme here!
MHR: What is your music background? (Who influenced you, when did you start singing, etc…)
SM: My first memories of singing, other than standing on the fire place hearth and playing church, is when my mom would bring me and my siblings to sing at the local nursing home. I began singing in school competitions when I was thirteen under the leadership of Lindel Anderson. He also gave me my first youth choir solo. As a member of Brother Kilgore's youth choir, we toured the States and even Europe and later recorded a CD, "Life Youth Choir", "Live and On Fire". This was my first recording and I was very excited! When I married Rob, who was evangelizing at the time, he really encouraged me to record a project to help supplement our income. I think I have done one almost every year since then. As far as influences go, I was definitely influenced by Nancy Alford (before she was Kilgore) from JCM. When I heard her sing Azusa Street one night it changed my life and I knew that someday, somewhere, somehow, I wanted God to use me like that. Vonnie Ewing is also someone whom I have admired because of her passionate delivery and consistent anointing. Growing up, I listened to my parents music, lots of quartets, Dottie Rambo, Bobbie Shoemake etc, even some Buddy Holly and Elvis Presley. I'm very excited to have been invited to sing a solo with The Brooklyn Tabernacle choir this August. I have always admired their music as well.
MHR: What specific themes do you cover in your songs? Why?
SM: I cover a broad spectrum of themes in my music. I tend to sing what ministers to me. I like my music to be encouraging, uplifting & hopeful. I'll hear a song and almost know instantly, I want to record that! I want to share that message.
MHR: Do you write your own songs? (If so, discuss your usual songwriting process.)
SM: I have written and recorded several songs. I'm disappointed in myself that I don't it more. Writing is extremely personal and sometimes hard to share. I have songs in my heart, ideas float around all the time, especially in prayer. I like to sing to the Lord in prayer, my own little songs, but it's mostly between me and Him. The way I write songs is sort of all in one setting, then going back to tweak them later, refining and formatting. Once you get the "hook" and you know what you want to say, it's easy from there.
MHR: Where can we listen, purchase, and connect with you?
SM: My web site although not always up to date is a good place to order my product. sharamckee.com Also, our church The Pentecostals of Katy has a web site thepok.com where all of services are streamed live, you'll hear me on there for sure! All of my music is also available on iTunes and there are lots of video blogs and some music stuff on YouTube. The Pentecostal Publishing House also carries my music. It was a dream come true to finally be able to do a project with my church. I am the music minister and choir director at The Pentecostals of Katy and we recently released our CD "Unrestrained" this year. I think it captures the atmosphere of our church and we are excited to share it with the world. The world needs more Holy Ghost anointed music!
Fun Stuff
Coke or Pepsi?  
Dr Pepper, but Coke will do if there's nothing else. Pepsi as a LAST resort, like say the world's water supply is contaminated
Mac or PC?  
PC as of now, but my husband is trying really hard to convert me. I'm not a Mac Hater.
Paper or Plastic?  
Plastic (which one is politically correct? Oh wait, I don't care! Haha)
East Coast or West Coast?
I'm going with West Coast!
White bread or Wheat Bread:
White for my whole life, but recently acquired a taste for the Harvest Grain 5 Nut Bread, but at Subway I still get white.