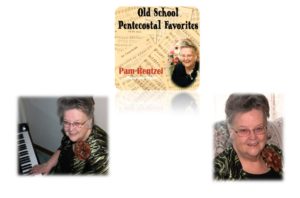 Tell us a little about your family.
I am the firstborn in my family and have two sisters. One sister is two-and-one-half-years younger than me and the youngest one is twelve years younger.  I am third generation Apostolic through my mother's parents.  My dad came into church when I about six years old.
What is your salvation story?
I was baptized in Jesus' name when I was ten years old and received the Holy Ghost on Memorial Day when I was twelve.  We had been in revival and back in the day we didn't usually have revival services on Monday night.  We had a church picnic earlier that day and everybody was so excited about the revival they decided we needed to have service that evening.  Two of my best friends and I received the Holy Ghost that night.
What is your favorite Scripture in the Bible?
My favorite Scripture is I Timothy 3:16: "And without controversy great is the mystery of godliness: God was manifest in the flesh, justified in the Spirit, seen of angels, preached unto the Gentiles, believed on in the world, received up into glory." I think it's a favorite because that's one of the first passes of Scriptures  my Dad taught me.
What is your music background?
I started playing the piano when I was around three years old.  Of course, I don't really remember it, but my parents said I used to sit and watch as someone pumped the pedals on our old upright player piano.  They told me that one day I told them I could do that, and I did.  I actually don't remember a time when I couldn't hear a song and sit down and play it—chords and all.
When I was older I tried to teach others to play and realized that I needed to learn good music terminology and basics in order to communicate with other musicians and teach properly.
What is the story behind your album?
I have always wanted to record a piano and organ project and the advent of midi and new recording technology made it easier.  I recorded a slower project for prayer and meditation time first, "Down From His Glory," and am presently in the process of finishing a project with upbeat songs.  This project will be called "Pam Rentzel Plays Old School Pentecostal Classics!"
What was your favorite part of the "album making" process?
My favorite part of the project was just arranging and playing the songs.  I had a ball!
What is your favorite song to play? Why is it a favorite?
I really enjoyed playing the song "When I Reach that City on the Hill."  I think it's my favorite (on the new project) because I used to play it for one of my best friends, Donna Jacks, who has now reached that city!  On the slower project, "Down From His Glory" was my favorite to play.
What is the best advice you have been given?
The best advice I've ever had was: "You've got to keep your spirit right!"   It made such an impression that my friend Deborah Jones and I wrote a song, "Keep My Spirit Right!" which Deborah recorded.
Where can we listen, purchase, and connect with you?
My music can be heard on myhoperadio.com  and purchased at  pentecostalpublishing.com  and pentecostalmusicians.com.  I also have several songs and a teaching project on YouTube.   Many of the songs are now available as downloadable singles or on CD.  I also have a Facebook group page called "Play This-Not That!"
Any loves other than music?
In addition to music, I love to travel and enjoy cruising, Hopefully we will travel more extensively when my husband retires.
Is there an instrument you wished you knew how to play?
I wish I knew how to play the harp!  I did play one at the home of a friend, and I think I could if I had more time and opportunity to learn the mechanics of the instrument.
What are five things you can't live without?
I wouldn't want to live without the Lord, my husband Mark, my church, ice cream, and chocolate!
Who do you want to send a shout out to?
A special shout out to my pastor, Ken Dillingham, and his wife, Stephanie, and our "girls" Audrey and Avary!