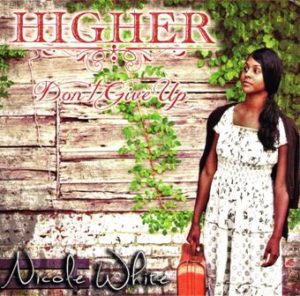 Tell us a little about your family.
I am the youngest of three children. (I have one brother and one sister). I married Christian rapper/song writer, W.E.L.L. CED (Cedric White), on August 1, 2009. We have two wonderful children: Micah, eight, and Abrielle, two. We live in the beautiful city of Myrtle Beach, South Carolina.
Describe your spiritual journey.
I grew up in the United Pentecostal Church. I was baptized and received the gift of the Holy Ghost during a children's service on Pentecost Sunday at my home church, World Harvest Ministries (then named World of Evangelism), under Pastor W.L. Clayton in Charleston, SC. I was six years old when I received the Holy Ghost and was baptized in Jesus' Name.
What is your favorite Scripture in the Bible?
My favorite Scripture in the Bible is Matthew 16:26: "For what is a man profited, if he shall gain the whole world, and lose his own soul? or what shall a man give in exchange for his soul?". This is my favorite verse because it has always challenged me to keep things in perspective. It always reminds me that I not only need to depend on Jesus when I am in need of help, but also when things are going well. This verse also reminds me that there is no treasure that is valuable enough to exchange my soul for.
What is your music background? 
I grew up in a very musical family. My father was a singer/songwriter who owns his own music studio (NTM Productions) and also the former music director at our home church in Charleston, South Carolina, and my mother sang in the choir. My brother, my sister, and I all grew up singing along with tapes of the Winans, Vanessa Bell Armstrong, and other gospel artists. Our parents always encouraged us to exercise and perfect our musical gift and they also let us know that, without Jesus Christ in our lives, there was no reason to sing. I joined the junior youth choir at the age of six, then the youth choir at twelve, and then the adult mass choir at age sixteen. My brother also started a small traveling youth ensemble that I had the privilege to be a part of throughout my teen years called Harvest Fire. I also had the great pleasure of becoming the junior youth choir director in my early twenties. I was also honored to be accepted as the music director at The Pentecostals of Georgetown UPC in July 2007 where I served one year under Pastor Donel White (now my father-in-law). In 2009 I went back to school at Coastal Carolina in Myrtle Beach, South Carolina to study music. I recorded my album Higher: Don't Give Up in my father's studio. The project was engineered by my father, Neal Mellix, and produced by my brother, Nathan Mellix (who is now the current Music Director at The Pentecostals of Georgetown). Today I am part of a wonderful, growing praise team at the First United Pentecostal Church of Conway in Conway, South Carolina, under the direction of Pastor Ben Cooke.
What do you feel is the most rewarding aspect of your ministry?
I think the most rewarding aspect of my ministry has been hearing testimonies of how my songs or even my worship has had an impact on the lives of others. I also enjoy being able to usher into the presence of God, then step aside so that the preacher can bring a Word that rests on the softened hearts of everyone in the congregation. I count it a tremendous privilege to be trusted with the task of leading a congregation in worship.
What is one of your musical dreams or goals you would like to see come to pass?
I actually never had dreams to be up on multiple stages, or to make an album, or to even be accepted onto an internet radio station, but God has just made a way for those things to happen. I guess I would say that my dream is that hearts and lives would be transformed, not just by my music, but by the power of the Holy Ghost others feel when they listen to my music and, most importantly, when they look into my life. I dream to be an example of a true worshiper and servant of the Most High God, Jesus Christ!
What is the best advice you have ever been given?
It's hard to say what the best bit of advice has been because I've had so many influential people in my life. The best advice that I have ever received in a bad situation came from my former youth pastor's wife (Sister Monica Louis). I was going through a very trying time, dealing with a situation that I had gotten myself into as a teen, and she simply looked at me and said, "You can do better!" That short statement changed my life forever and from that point on, I never settled for less than everything that God wanted for me. The best musical advice that I have ever received came from my father, who always told me to, "Sing in a forward motion," "Take the listeners on a journey," "It's not about the quantity of runs and riffs, but about the quality of the voice," (and most importantly) "NEVER sing anything that you don't feel!" The best spiritual advice came from my former pastor's wife (Sister Rose Clayton). She would always tell me to drag my flesh into the prayer room even when I didn't feel like it because one day, when my strength is almost gone, I will be able to draw from those prayers that have been stored up.
What is your greatest passion and why?
My greatest passion is seeing the hand of God in my family! No matter how many people I touch with my ministry, if my children and husband lack my love, attention, and prayers, I have neglected my #1 ministry, which is my family!
What are five things you can't live without?
I cannot live without Jesus Christ, the Word of God, my family, music, and …….bacon! Hahaha
If you weren't singing, what would you be doing?
It sounds strange, but if I weren't singing, I would probably be more of a "behind the scenes" type of person in the church. I would also probably be doing my photography full time. I have been blessed with a husband who encourages me to pursue just about anything that I want to do as long as it's healthy and edifying. Photography is something I've always wanted to try, so I'm very excited to be starting something new and fun in my spare time.
Who do you want to send a "shout out" to? 
I would like to send a shout out to my Savior and first love, Jesus Chris; my husband, W.E.L.L CED (Cedric White); my home church, UPC of Conway; my parents, Neal and Beverly Mellix; my siblings, Nathan Mellix and Natasha Mellix Irizarry; my in-laws, the White Family; and some women who have been very influential and helpful in my life, Sister Rose Clayton, Sister Nell Lacey, Sister Geri Goddard, Sister Monica Louis, Sister Sharon Richer, Sister Tyese Miller, Sister Joyce Sandoval, Sister Sabrina Alston, Aunt Geri Daniely, Mardaisha Smith, Shonta Smith, April Handley and Damaris Sandoval. The love and prayers of ALL of these people have made me who I am today!
Where can we listen, purchase, and connect with you?
You can listen to, purchase, and stay connected to my music along with other Apostolic artists on our record label at boc-music.com. My music is also on myhoperadio.com, pentecostalpublishing.com, iTunes and YouTube. I am also on Facebook as Nicole White (fan page) and twitter @nicmusic85.