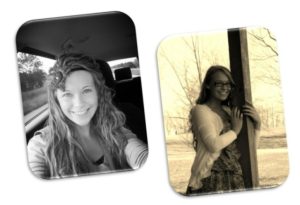 Tell us a little about your family.
I will start with my Dad , he is my hero , I have seen him go through many trials while pastoring for fourteen years— having cancer and losing a child—and he has never had the thought of resigning from the church. My mom is also a hero of mine. She is the one that keeps me in line and I love her for that. I have a little sister named Dasha. She is like my cute "mini-me".
What is your salvation story?
I received the Holy Ghost when I was four years old in Petersburg, Indiana, at the church where we were my father served as pastor at the time. I was later baptized in the same church. I live an overcoming live by surrounding myself with active Holy-Ghost-filled teens; I love youth rally's and camps.
What is your music background?
I can remember singing at the age of two years old in the kids choir. It wasn't until I was about eleven that I started singing solos. I have to say my mom was and is my biggest influence in the music world, She taught herself how to play piano.
What is the story behind your album?
My dad always told me that one day I would have a CD. One day he was talking to a close friend of ours Larry Carter and the next thing I knew he was talking to me and giving me some details on what we need to do.
You wrote several of the songs on your album, where do you get your inspiration and what is your process for writing.
I was inspired on two of the songs that I wrote from my dad's messages, "King in Me" and "Amazing". The other two songs I credit my inspiration from life itself and the struggles that life brings.
What was your favorite part of the "album making" process?
My favorite part was working with Larry Carter. I know one day we were together for at least twelve hours, and after about the tenth hour I guess you could say I was getting slap happy. I was so amazed at what all went into this project. There are people that helped on this project that I have never met . I loved the photos shoot most of all. My dad took those pictures and it was a blast.
What is the best advise you have been given?
Don't ever quit. Don't even slow down. My dad lives by and preaches that if you hang around greatness your life will always be challenged and therefore you will always chase after greatness.
If you had the attention of the world what would you say?
Jesus is coming, and He is coming sooner than you think.
Any loves other than music?
I love playing volleyball, and I love going to new places on vacation. I love my new youth group at our new church in Corning, Arkansas.
What are five things you can't live without?
Jesus, my family, cell phone, Facebook, and my curling iron.
If you could sing anywhere in the world where would you sing?
I have always wanted to go to Africa.
Who do you want to send a 'shout out' to?
To all my sisters at Urshan College, get ready I will be there in August!
Where can we listen, purchase, and connect with you?
You can listen to my CD on www.myhoperadio.com and purchase from www.pentecostalpublishing.com