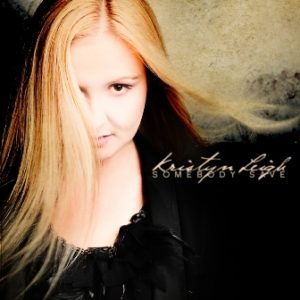 My Hope Radio: In three or four sentences, how would you describe your journey of faith?
Kristyn Leigh:I grew up in the church where my grandfather pastored and always loved God but did not have a real relationship. I always felt like nothing went wrong in my life up until after high school. At this time I lost a first love, was dealing with my first year of college, and feeling like my world was falling apart. I fell into depression and even thought of suicide but something in my life changed. I began to realize there was always still Jesus and He loved me no matter what, from there began a relationship with God I never had before—a close and personal relationship I still have today.
MHR: What is your favorite Scripture in the Bible?
KL: Isaiah 41:10, "Fear thou not; for I am with thee: be not dismayed; for I am thy God: I will strengthen thee; yea, I will help thee; yea, I will uphold thee with the right hand of my righteousness." This is my favorite Bible verse because anyone who knows me knows I am always scared about something. When I am scared I read this verse and remember I don't have to be because God is always with me. It always instantly calms me and lets me know I am not alone. This verse inspired a song on my first album, "Glimpse," with the song, "Do Not Be Afraid."
MHR: What is your music background? (who influenced you, when did you start singing, etc….)
KL:I started singing when I was in elementary school with the choir. During my first solo at church I ran off the platform crying. One of my biggest influences when I first began solo singing was Amy Grant. I felt called in the music ministry at the age of fourteen at our state wide youth camp. From then on I started playing piano and singing at my home church. I also began recording for a local songwriter where I got a start at the recording process. My senior year of high school I met my producer and began making my first album. From then on I began traveling and singing at different churches sharing what God told me to do.
MHR: What specific themes do you cover in your songs? Why?
KL:In my latest album I was really torn with what to have on the CD because I am the type of girl who loves the fast Christian rock music that is fun but I was also brought up in church and love old hymns and worship music. I decided to mold the two which brought about "The Heavy and the Holy". In this album, half of it is called heavy and deals with many issues that we as humans may deal with such as anger, feeling low about ourselves, and so on. They are songs that relate to people but give hope that there is a God who loves us and will help us along the way. The second half of the album is called the holy side and consists of more worshipful music. It includes two old hymns, "The Old Rugged Cross" and "I Surrender All" as well as one of my favorite original songs, "In Jesus Name."
MHR:Do you write your own songs? (If so, discuss your usual songwriting process.)
KL:I co-wrote many of my songs. In this process, I would write down anything I thought could be a possible song, my thoughts, and feelings. I gave this to my producer and he would then begin to form songs around my journaling. I would always tell my producer what type of music I wanted it to sound like, musical interests, etc. He wrote the music and tweaked my words. In the end I had the final say over what I wanted to change, add, or replace. We have a great working relationship that produces some amazing music.
MHR: Where can we listen, purchase, and connect with you?
KL: You can purchase my CD online at my website KristynLeigh.com or on iTunes. You can connect with me on myspace.com/kristynleigh
Fun Stuff
Coke or Pepsi?
Coke
Mac or PC?
PC
Paper or Plastic?
Plastic
East Coast or West Coast?
East Coast
White bread or Wheat Bread
Wheat Bread