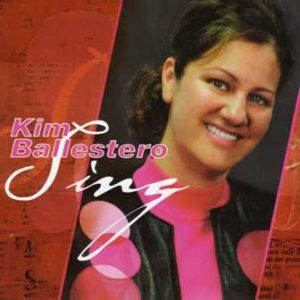 Describe your journey of faith? 
My parents started pastoring when I was eight years old, so I was involved in church my entire life. I loved the Lord and wanted to work for him, so I went to Bible College to better equip myself. I didn't realize until I was grown that I knew a lot about God, but I didn't really know Him! My journey of faith has been a process. Every experience in my life has taught me how to trust God more, to depend on Him, and that He is my source. I'm still learning…
---
What is your music background? 
I started playing piano when I was four and began lessons when I was five. Because my parents started a church and we had no music, I became the church organist at an early age. No one else could hear vocal parts, so I became the music director at about age twelve; singing and playing was something that just came naturally to me. I idolized Mickey Mangun and Nancy Grandquist and wanted to be like them when I grew up!
Do you write your own songs?  
I do write songs, and they are usually born out of my life's experiences. Sometimes pain drives me to write a very heart-felt song, other times I am rejoicing over a miracle that God has done in my life and words of praise just begin to flow. Many times songs will come from my prayer time, and some of those songs are just between God and me—they aren't shared with the world!
What specific themes do you cover in your songs? Why? 
I mostly sing praise and worship songs because that is what I was created to do! It's hard for me to sing solos because I just want to get into that praise zone. If I sing a solo, it's usually an old hymn. I enjoy singing, so I love to listen to a good, catchy tune, but I want to sing a song that has meaning!
God has blessed me to be able to do two solo albums and several CDs of praise and worship with my church choir. I have also produced several children's CDs. I believe in training a younger generation of praisers!
If you weren't singing what would you be doing and why?
I would be reading, writing and teaching.  I love to learn, and I love to teach others about what I've learned.  To some degree I've begun doing this in my home church and at a few Ladies Conferences.  Music is my passion, and the Lord willing, I will always be singing, but I've also found great fulfillment in studying God's word and sharing it with others!
How would you encourage someone desiring to pursue music ministry?
Practice! Take time to hone your skills.  Don't wait for the door to open before you prepare yourself for music ministry.  Take lessons, learn theory, learn how to work with people, and how to organize!  Have a servant's heart and be willing to do menial tasks.  My husband often tells our church, "Before I preached in this pulpit, I cleaned it!"  Before you can have a visible ministry you ought to prove yourself by being willing to do the jobs that no one else wants.  There are a lot of people who desire to see their name in lights, but very few who are willing to pick up trash.  Doing that kind of stuff builds character in you!  It's not enough to have talent, but you have to have character that matches or you will eventually fall.  Hold up the hands of the ministry that leads your church, and treat people with kindness.  Finally, be a worshipper.  The world is full of people who are 'song-leaders', but in this hour that's not good enough!  The Father is seeking worshippers, so become one.  Be a worshipper when no one else is looking.
What are five things you can't live without?
I surely can't live without God, food and water; however there are a slew of things that I don't WANT to live without!  I recently discovered on our church-wide Daniel's fast that I CAN live without dark chocolate, but I REALLY don't want to!  So, let's see, besides the essentials of life, and my wonderful husband and kids, I can't live without books, my computer, my iPhone, my piano, and of course, dark chocolate.
What is the best advise you were ever given?
Think like God.  Don't trust your own thoughts, but instead filter them through Christ and what His word says.  Your thoughts become your beliefs, and you will eventually talk about what you believe.  Whatever you talk about you will act upon, and finally you will reap the results of your actions.  If you want God's results, think like God!  It's a daily battle to put that advice into practice because it takes discipline to 'train your brain' to think like God!
What is your favorite Scripture in the Bible? 
My favorite Scripture is Jeremiah 29:11, "For I know the thoughts that I think toward you, says the Lord, thoughts of peace and not of evil, to give you a future and a hope."
Where can we listen, purchase, and connect with you? 
My music is available at www.kimballestero.com at www.pentecostalpublishing.com . We also stream our services online, so you can watch our music live on Sundays at 11:00 am at www.newdestinywc.com. My husband has posted a few videos of my music on www.youtube.com.
Fun Stuff
Bagels or Donuts?
Definitely Donuts!
Fruits or Veggies?
Fruits AND Veggies
Mayonnaise or Mustard?
Mustard
Pen or Pencil?
Pen
Elevator or Stairs?
Elevator, sadly!