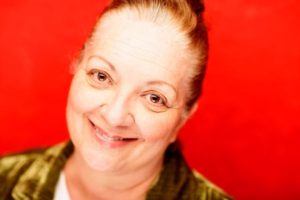 My Hope Radio: In three or four sentences, how would you describe your journey of faith?
Karen Harding: I received the Holy Ghost at age five. I cut my teeth on powerful, anointed singing. It is a walk of faith. We have to trust God in the good times and the bad. I do know this…God does NOT fail. I KNOW my Redeemer lives!!
MHR: What is your favorite Scripture in the Bible?
KH: Proverbs 3:5-6, "Trust in the LORD with all thine heart; and lean not unto thine own understanding. In all thy ways acknowledge him, and he shall direct thy paths."
MHR: What is your music background? ( who influenced you, when did you start singing, etc….) 
KH: I started singing when I was two years old. I would stand on a chair behind the pulpit. I've been singing as long as I can remember. Everyone in my family sings and plays instruments. It was always, and still is, a HUGE part of our lives.
MHR: What specific themes do you cover in your songs? Why? 
KH: I like songs with a message. Hold on to Faith, Don't give up and so on. Songs of encouragement. Also songs with eternal truths like, "The Blood", "The Cross", "Jesus Name". I don't like to sing "bubblegum" songs. People will come to a concert or to hear someone sing more easily than they would to hear someone preach. That is why every song must minister. We preach mini-sermons in our songs. A song will open the heart to receive God's word.
MHR: Do you write your own songs? (If so, discuss your usual songwriting process.) 
KH: Yes, I write. I sing my songs and other writers songs. I like to co-write too. I just wrote a song about the Blood of Jesus with Jeff Ferguson. I will get an idea and a tune will come to me, or, I will get a tune and the words later. Lots of times I will hear a sermon, or see a sign, or be reading the Word, and it will hit me….that would be a great song. I usually get the chorus first.
MHR: Where can we listen, purchase, and connect with you?
karenharding.com
Fun Stuff
Coke or Pepsi?
Without a doubt, COKE!! Hate Pepsi (sorry Pepsi fans)
Mac or PC?
MAC 100 percent, Love it, love it!!!!!
Paper or Plastic?
Plastic
East Coast or West Coast?
West Coast…I miss my beach in San Diego, California
White bread or Wheat Bread?
Wheat