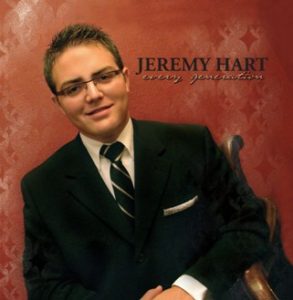 My Hope Radio: In three or four sentences, how would you describe your journey of faith?
Jeremy Hart: I was raised in a preacher's home so church, and the work of God, was all I ever knew. But as I grew older, I understood more and more that regardless of my wonderful heritage (which I am very thankful for) I had to decide for myself whether or not to continue in the faith and serve the Lord. I preached my first sermon when I was 13 years old and have since determined that ministering the gospel, in word or song, is the greatest calling in all of the world.
MHR: What is your favorite Scripture in the Bible?
JH: Isaiah 41:10, "So do not fear, for I am with you; do not be dismayed, for I am your God. I will strengthen you and help you; I will uphold you with my righteous right hand."
MHR: What is your music background? (who influenced you, when did you start singing, etc…)
JH: I grew up listening to artists such as The Kingsmen, Hinsons, McGruders, Gold City, and The Cathedrals. There was something about the music that captivated me and even as a kid I absolutely loved it. One of my biggest influences has been Stan Cook, who sang with the McGruders for many years. He is an incredible singer and preacher, and has proven to be a true friend. His support and encouragement has played a huge role in my ministry. I have practically been singing all of my life in my home church where my dad and grandpa pastor, but in 2006 at the age of 15 I released my first CD and began working toward fulfilling what I felt God has called me to do. Since then, I've released two more projects that I'm extremely proud of and have watched God do great things through the message in the songs. My great friend and producer of my 2 latest projects, Matthew Holt, has taught and influenced me so much and literally given wings to my dream.
MHR: Do you write your own songs? (If so, discuss your usual songwriting process.)
JH: Not all, but many of the songs I sing are songs that I have written. I typically start the lyrics and have tune going through my head and then sit down at the piano and finish lyrics or put the final touches on the melody. Most of them either come from a trial or situation I've been through or a thought that I hear in a sermon.
MHR: What specific themes do you cover in your songs? Why?
JH: Very few times have I sat down and written a song on a specific topic or subject just because I wanted to. Unless a song is inspired by God I'm not interested in writing or singing it, because unless it has the anointing of God it will not touch hearts and minister to hurting lives. In the songs I sing, I want there to be a message of hope, encouragement, and salvation because that is what will carry us through.
MHR: Where can we listen, purchase, and connect with you?
JH: You can order product from my website jeremyhartmusic.com as well as hear samples of every song. The Pentecostal Publishing House also carries my product.
Fun Stuff
iPhone or Droid?
iPhone
Times New Roman or Other (font)?
Futura
Painting or Photo?
Photo
Bookmark or Dog ear?
Bookmark
Ugly car that runs like a dream or beautiful car that breaks down?
Ugly car that runs like a dream.