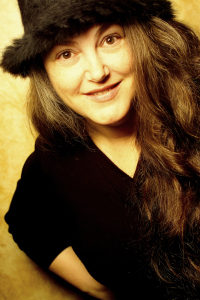 My Hope Radio: In three or four sentences, how would you describe your journey of faith?
Jana Allard: My journey of faith began as a small child of seven when I received the Holy Ghost.  However, I reached a time in high school where I began to question my faith.  Through prayer, study, and a God-given dream at sixteen years old, revelation came to me in such a strong way, I now have no doubt about the God I serve and the truth in which I am established.
MHR: What is your favorite Scripture in the Bible?
JA: How in the world can I narrow it down to one?  I must say I love the message of Acts 2:38 but frequently quote to myself and others Matthew 6:33; "seek ye first the kingdom of God and His righteousness"  It keeps me focused, humble, and in pursuit of holiness.
MHR: What is your music background? (Who influenced you, when did you start singing, etc…)
JA: At the age of two, my father/pastor would hold me up in front of the church and whisper,"I will take you to A & W Root Beer if you will sing." So, bribery got me started.  🙂  Singing is my passion and as a young girl I wanted to sing like Nancy Grandquist.  I participated in youth camp choirs, sang at fellowship meetings, conferences, and eventually directed choir, taught vocal classes, and currently serve as the director of music for Apostolic Gospel Church of Delano, California where my husband is the senior pastor.
MHR: What specific themes do you cover in your songs? Why?
JA: A song, in my opinion, must convey a message of hope, healing, deliverance, salvation, or joy and minister to the listener.  In choosing repertoire, I want the song to "grab" me and I want to "feel" it in my soul.  If it ministers to me, it most likely will minister to others.
MHR: Do you write your own songs? (If so, discuss your usual songwriting process.)
JA: Although I have written numerous songs, I don't consider myself a songwriter and have never recorded my own material.  The songs I have written came in moments of inspiration and were used for worship.
MHR: Where can we listen, purchase, and connect with you?
JA: My music is available at pentecostalpublishing.com, janaallard.com, janaallard.blogspot.com , or contact me via Facebook.
Fun Stuff
Flip Phone or Slide Phone?
Trying to get used to my new slide phone.  I am not very tech savvy.
Times New Roman or Other (font)?
Arial Narrow or Calibri
Painting or Photo?
Paintings are beautiful but my world is surrounded by photos.
Pancakes or Waffles? Or crepes?  
I do like waffles topped with ice cream and strawberries.
Bookmark or Dog ear?
Definitely bookmark