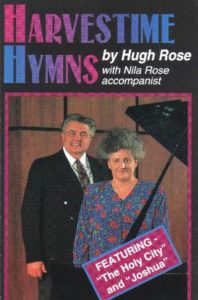 Joseph Hugh Rose was born November 21, 1934, in Jewett, Ohio, a son of the late J. Harper and Lottie L. Van Allen Rose. Rev. Rose was the recently retired pastor and actively serving as bishop of Harrison Hills United Pentecostal Church in Jewett. He was the announcer for Harvestime, the radio Broadcast of the United Pentecostal Church International located in Hazelwood, Missouri, for forty-four years. He was a member of the Ohio District Board as well as the Board of Education for the United Pentecostal Church International for many years.
Brother Rose was beloved by all who knew him.  He was called upon many times to sing "The Lord's Prayer" at weddings, funerals, and church dedications.  He blessed congregations at camp meetings, Harvestime Broadcast rallies, and district conferences.  He captivated audiences at General Conference as well as world Conferences. His "signature" song was "Down from His Glory" which brought folks to their feet in worship.
He dearly loved his precious wife, Nila.  She accompanied him on the organ and together they inspired all who gathered for worship.  He adored his four children, Hugh II, Stephanie, Dawnella, and David.  His five grandchildren made him a very proud grandfather.
His passion was to pastor Harrison Hills United Pentecostal Church in Jewett, Ohio.  The faithful saints worked together to build a beautiful sanctuary, education building, and fellowship hall in Jewett.  The buildings and property were impeccably taken care of inside and outside.  He was fiercely loyal to the Oneness truth!
His funeral was a home going celebration at the church He so much loved.