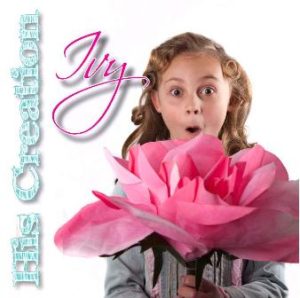 My Hope Radio: In three or four sentences, how would you describe your journey of faith?
Ivy Mallory: I was six years old when I received the Holy Ghost and was baptized that same night.  My relationship with Jesus is the most important thing to me and I tell everyone I can about Him.  Sunday School is my favorite time of the week it really helps be a better Christian.
MHR: What is your favorite Scripture in the Bible?
IM: Psalm 23, "The Lord is my shepherd; I shall not want. He maketh me to lie down in green pastures: he leadeth me beside the still waters. He restoreth my soul: he leadeth me in the paths of righteousness for his name's sake. Yea, though I walk through the valley of the shadow of death, I will fear no evil: for thou art with me; thy rod and thy staff they comfort me. Thou preparest a table before me in the presence of mine enemies: thou anointest my head with oil; my cup runneth over.  Surely goodness and mercy shall follow me all the days of my life: and I will dwell in the house of the Lord for ever."
MHR: What is your music background? (Who influenced you, when did you start singing, etc …)
IM: I started singing when I was about three.  My Papa would take me to nursing homes on Sundays and to the donut shop and have me sing for people.  I loved the smiles it brought to their faces.  I love to hear my Aunt Tishauna sing-it has always inspired me.  I took voice lessons for about a year but mostly my family works with me; we help each other.  I also play the guitar and started playing and singing together last summer.
I really love it!
MHR: What specific themes do you cover in your songs? Why?
IM: I like to sing fun songs that talk about the Rapture because I can't wait to see Jesus and I want others to see Him too.  I also sing about the Armor of God, God caring for us, God can do anything and one of my favorites is the Bible being a treasure.  I think it's important for kids to get inspired by the Word of God and know that He can heal them just by touching them and that He cares about them.
MHR: Do you write your own songs? (If so, discuss your usual songwriting process.)
IM: I have just started writing my own songs.  I didn't write any that are on my CD.  I like to write as I play my guitar.
MHR: Where can we listen, purchase, and connect with you?
IM: You can get any information from my website: ivymallory.com
Fun Stuff
Cupcakes or Muffins?
Cupcakes
McDonald's or Burger King?
McDonald's
Fruits or Veggies?
Fruit
Mayonnaise or Mustard?
Mayo
Pen or Pencil?
Pencil