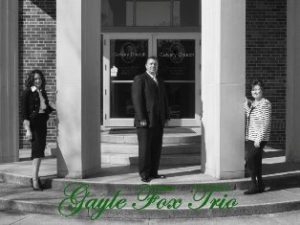 My Hope Radio: In three or four sentences, how would you describe your journey of faith?  
Gayle Fox: An old song sums it up best—Joy Unspeakable and full of glory and the half has never yet been told.
Daniel Fox: I was born and raised in Truth. I received the Holy Ghost at age twelve, and there have been a lot of miles covered through dark valleys, and a lot of golden sunshine days. However, I have learned God has been God through
Ashley Fox: I am amazed everyday to see God's miraculous hands. Doctors told me that I would never have a child of my own, I was also told by other physicians that I would be blind by age seventeen, but today I have 20/20 vision and able to see my precious three-year-old year old little girl. How could I ever doubt that He's not real. Like my pastor says, "He's been more than good to me, He has been God."
MHR: What is your favorite Scripture in the Bible? 
GF: Proverbs 20: 27: ''The spirit of man is the candle of the LORD, searching all the inward parts of the belly."
DF: Hebrews 11 – the entire chapter hands down—faith has brought me this far…
AF: Ephesians 3:20: "Now unto him that is able to do exceeding abundantly above all that we ask or think, according to the power that worketh in us."
MHR: What is your music background? (Who influenced you, when did you start singing, etc…) 
GF: My dad and uncles always played music even made their own instruments. I started singing when I was a small child, in school and church, it was just in my soul. Started the Trio in 1977, seen a lot of faces since then. Now my son, daughter-in-law, and myself make up the trio. I play piano, sing, write, and love to minister.
DF: My mom sang in the church all my life and instilled it in me. I now sing, play keyboard, and am the minister of music at our home church. My favorite singers are the McGruders, Teddy Huffam, Tim Freeman, Madonna Massey, Murrell Ewing, and the list could go on for a long time.
AF: I sang a little in my teen years, but got more into it after getting married to Daniel. Some people that I love listening to are Dottie Rambo, Madonna Massey, and my favorite is Mickey Mangun.
MHR: What specific themes do you cover in your songs? Why? 
GF: Tell the story of what God has brought me through. What He has done for me, He will do for them.
DF: HOPE and FAITH. We live in such a time where pressure is higher than ever, and life overwhelms people. Satan telling people they are in a mess they can't get out of but HE THAT THE SON HAS SET FREE IS FREE INDEED. There is HOPE; just have FAITH.
AF: I don't think there is any specific theme to what I sing. Mainly songs of a journey that I have been on or going through, and anything that uplifts Him.
MHR: Do you write your own songs? (If so, discuss your usual songwriting process.)  
GF: Yes, the Lord gives the song, never sit down to write God just moves on me and sends the song.
DF: Yes. God sends the song I am just a vessel He uses to pen it. You never know when a song is going to be born. I've been in church and the Lord move and just start singing off the cuff, I have even been awakened out of sleep at 2:00 am lol…It's all God.
AF: No, I leave that up to Gayle and Daniel.
MHR: Where can we listen, purchase, and connect with you?
DF: gaylefoxtrio.com
Fun Stuff for Gayle
Bagels or Donuts?
Donuts
Fruits or Veggies?
Veggies
Mayonnaise or Mustard?
Mayonnaise, I knows it's not healthy but so good…
Pen or Pencil?
Pen
Elevator or Stairs?
Elevator
Fun Stuff for Daniel
Mechanical Pencil or Wood Pencil?
Wood for sure.
Cupcakes or Muffins?  
Cupcakes, that icing is more calories I need.. lol
McDonalds or Burger King?
McDonald's they have some good tea…
Dollar Bill or Dollar Coin?
Dollar Bill works better in the wallet…
Ugly car that runs like a dream or beautiful car that breaks down?
Ugly car that runs like a dream…looks won't get ya into heaven either, ya gotta have the goods not just the looks…lol
Fun Stuff for Ashley
Ice Cream or Brownies?
Can't I have both" Brownie a la mode and add some hot fudge. Yum.
Pizza Hut or Dominos?
Dominos, love the hot wings.
Slurpee or Icee?
Icee, never had a Slurpee.
Fruit Gum or Mint Gum?
Fruit Gum
Laptop or iPad? Laptop.
It goes with me everywhere, can't leave home without it.