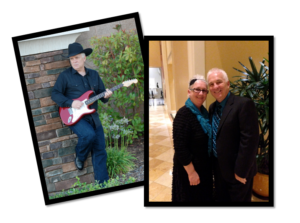 Tell us about your family?
My wife, Anita, and I have been married since 1976. We have two children who are active with their own families in the ministry.  Our daughter, Crystal, is married to Jason Hall, our associate pastor. Crystal is our music minister. They have four children, Dylan, Logan, Evan, and a beautiful baby girl, Megan. Our son, Philip, is married to Rachelle (Jason's sister) and they have one awesome baby girl, Chantel. Philip has served as associate pastor and youth pastor. He is currently completing his master's degree studies at Harvard Kennedy School in Boston where he also serves as president of the Harvard Graduate Council.  I consider myself richly blessed to have such a wonderful family.
What is your salvation story?
I was baptized and received the Holy Ghost in 1962 at Parkview Apostolic Church in Muncie, Indiana. Richard Martin was my pastor. In 1967, my parents moved our family to San Diego, California where we became active in the National City United Pentecostal Church that is now South Bay Pentecostal Church. My earliest memories involve going to church. I grew up under a Pentecostal pew and became familiar with Apostolic worship and music as a child. It was my life.  Those memories are forever embedded in my mind and are a great source of inspiration to me today.
What is your music background?
I was born into a musical family. My mother was the church pianist in Muncie and my dad was the church organist. There was no such thing as music minister in those days. My mom was also the choir director. I remember countless choir practices. Visitors would come to church on Sunday night just to hear the choir. People worshipped, shouting and running the aisles. It was a powerful thing!
We always had a piano at our house. People would come over to practice and learn new songs.  Many nights I went to sleep while they were still  singing and playing. My parents were faithful. I was a teenager before I learned you could stay home from church!
When I turned seven I told my dad I wanted to play guitar. So he rented me one and I took some lessons at a music store. I kept that guitar on my bed. It was a little acoustic flat top. I played it until I went to sleep and started playing the first thing when I woke up. Later he bought me a red electric and I started playing at church. We had about thirteen guitar players. People think I'm making that up, but it's the truth!
I was about eight and my sister, Karen, was about four when people started encouraging us to sing at church. I played guitar and kind of harmonized with her.  She was born with the gift of singing.
When we moved to California, my parents immediately got involved.  They started a choir, and they played the piano and organ. National City was a worshipping church and we all felt right at home. The more people shouted, the louder my dad played the organ!
After my wife and I were married, we recorded three albums while evangelizing for seven years.
What is the nature of your ministry?
Since 1984, I have pastored in the Sacramento suburb of Orangevale, California. My wife has been involved in Ladies Ministries promotions for many years and is currently the Western District ladies secretary.  We are frequently invited to speak at marrieds retreats and other events. For over thirty years I have been speaking and entertaining at banquets in the attempt to bring some laughter and joy to our fellowship.  I have produced four comedy CDs, including one live recording. Last year I finished the first of an instrumental series called "Rest by the Shore."  I recently produced a new kids project called "God's Little Cowboys" featuring my grandsons.
What is the message in your latest CD?
"Rest by the Shore" is a project to help people rest.  I had requests to play the old hymns. Many of our pastors and wives are dealing with unbelievable loads of stress.  Some enjoy sleeping with little machines on the nightstand that simulate peaceful sounds.  So I produced an album of hymn medleys set to the sounds of ocean waves and it has turned out to be a blessing. Those that remember the older songs will connect with it. It will put you to sleep!  I often say that I can put people to sleep preaching or playing the guitar!
What is your favorite Scripture in the Bible?
I have many favorite scriptures; but, II Kings 3:15 has a special meaning to me.  "… And while the minstrel played, the hand and power of the Lord came upon [Elisha]."
Any loves other than music?
I still enjoy racquetball, even though it is getting harder to keep up with the young guys!  I also enjoy golf and as Western District media director, I have hosted our district minister's benefit golf tournament for the last three years.  I have been involved in Christian radio all of my life. I still do production and DJ work for KYCC.  You can find more about their ministry at www.kycc.org.
What is the best musical advice you ever received?
A minister once told me that music doesn't become true worship until you can play it well enough to not have to think about playing it. That means a lot of practice!  I have been playing guitar for over fifty years and I am still learning. My goal is to play a song well enough that I don't have to be thinking how to play it. Then I become free to think about why I am playing… and it becomes true worship.
Where can we purchase and connect with you?
For those who would like to contact me for banquets, retreats, or to order CDs, you can email me at: [email protected].
Fun Stuff
What are five things you can't live without?
1. My wife, my kids and my grand kids. They are my 'resume'.
2. Guitars. I can't go too long without playing. It's great therapy!
3. My iPhone. It is a tool I use everyday.
4. My close friends. They are invaluable.
5. Good Mexican food. We eat it at least three times a week!
What would you do with a million dollars?
I would have to think about that for a bit. I'm sure I could find plenty of needs to spend it on!  If God decides it should happen, I'll be ready when it happens!
Who would you like to send a shout out to?
I would like to say thanks to my manager, my producer, my bus driver, and my record label. Just kidding!  I don't have any of those.