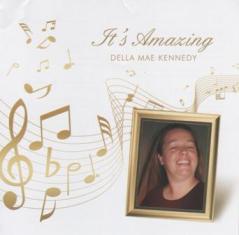 My Hope Radio: Tell us a little about your family. 
Della Mae Kennedy: My husband, Eddy, and I have been full-time missionaries for over fifteen years and are currently working in New Caledonia, a group of French islands in the South Pacific.  We also have a wonderful teen-age daughter, Cherish, who has been raised in foreign missions.
MHR:  Describe your spiritual journey? 
DMK: I grew up in a Pentecostal home and was always active in the church, even as a young person.  My parents pastored and also started three home-mission churches, so there was always plenty of work to be done and music to be made.  I graduated from UPBI in Canada, now known as Northeast Christian College, and soon after began working under AIM in the African region with my husband. After several years on AIM, we went on to be full-time in missions.
MHR:  What is your favorite Scripture in the Bible? 
DMK: One of my favorite scripture verses speaks of the commitment of the Lord toward His people:  Joshua 23:14: "ye know in all your hearts and in all your souls, that not one thing hath failed of all the good things which the Lord your God spake concerning you; all are come to pass, (and) not one thing hath failed thereof."
MHR:  What is your music background? (Who influenced you, when did you start singing, etc.) 
DMK: I started singing in church with my sister at about four years old, later with a friend when I was around nine or ten.  During my teen years, my friends and I would often spend hours at the church playing and singing, just for fun.
MHR:  What is one of your favorite songs to sing? Why is it your favorite?
DMK: I tend to prefer songs of a simplistic nature and played in minor keys.  I sing in French as well as in English and one of my favorite songs that I sing in both languages is "More Love, More Power".
MHR:  Do you write your own songs? (If so, discuss your usual songwriting process.) 
DMK: I do write songs.  I usually start with just two or three lines which I mull over in my head for a few days, sometimes much longer.  These first lines are usually the heart of the message within the song.  The best time for me to find a song is while praying.
MHR:  Where can we listen, purchase, and connect with you? 
DMK: You can look us up on Facebook, 'Kennedy's in New Caledonia' or through http://kennedy.foreignmissions.com
Fun Stuff
What would you do with a million dollars?
That would take some serious thought. It would be truly awesome to have our own church building and Christian book store in New Caledonia, though.  🙂
What time in history would you like to visit for a week?
Not too far back, perhaps back to the early years of my parents, just to see if they really did have only one set of clothes, and were happy to have them.  😉
What is your favorite breakfast cereal?
Fruit Loops
What is your dream vacation spot?
Venice, Italy
Who do you want to send a 'shout out' to?
To the friends that we have made during our travels in North America and in many other areas of the world:  Thank you for every kind word and deed and may the Lord safely keep you under the shadow of His wings.