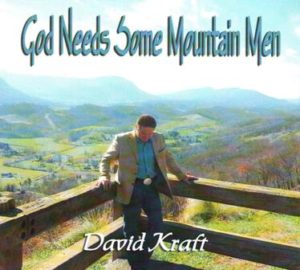 Tell us a little about your family.
My wife, Rebekah, and I have been married thirty years in May 2014. We have two sons Andrew (28) and Anthony (26). Andrew and his wife, Heather, have two children David (4) and Ashlyn (3) all of whom we love very much.
What is your salvation story?
Unlike my wife, I had no Pentecostal background. I was born the son of a bouncer and a bartender, so I got off to a rough start! My mother, Betty, (who is now a born again believer) moved from Billings, Montana, to Hardin, Montana, when I was four years old. We lived right across the street from the UPC pastor and his family who came over and invited us to Sunday school. I was baptized in Jesus name and received the Holy Ghost the summer I turned ten and I felt the call to ministry at a fairly young age.
What is your music background?
I have always loved to sing and because of my background I grew up listening to and loving the country sound. On my gospel side my influences were southern gospel groups like the Happy Goodman's and the Hinson family. I would go into my room and put those old tapes and records on and sing until my voice was hoarse.
What is the nature of your ministry?
The Lord has used me in many areas of ministry. I feel called to preach but gifted to teach and my talent is singing and songwriting. I have filled the office of assistant pastor, adult Bible teacher, pastor, and evangelist. I guess I'm still figuring out what I want to be when I grow up. I am currently evangelizing and doing concerts tied in with revival services.
What is the vision, purpose, and comprehensive message in your latest CD?
As with all my CDs, I love to tell stories in song—personal and Bible based. All are with the goal of exalting Jesus, promoting the gospel, and pointing others to Calvary. My latest CD entitled "Aging With Grace" is more retrospective and introspective—expressing my thanks for God's call, grace, and mercy.
You wrote all the songs on your album; where do you get your inspiration and what is your process for writing?
I have written all the songs that I record because to me this is much more personal and I certainly don't have to worry about being compared to other who may have done any particular song. In answer to inspiration, it is God's help through prayer, study, and personal experience. I have written a number of songs based on messages I've preached or heard. I am fifty years old and feel I have experienced things that could be a help to young and old alike.
What do you feel is the most rewarding aspect of your ministry?
When I can see or hear of others benefiting or being helped from my music and ministry. When someone says a song or message was anointed and touched them in a personal way is very rewarding. However, even if that were not the case, knowing I am laying up treasures in Heaven is the greatest reward!
How would you encourage someone desiring to pursue music as a ministry?
Everything has a process before fulfilling its purpose. Lay the foundation and build on it until it is complete. Never do any ministry with only monetary gain or fame in mind. If you feel it with all your heart do it with all your might, but keep it in perspective and always put God first! According to Proverbs 18:16: "A man's gift maketh room for him and bringeth him before great men."
Where can we listen, purchase, and connect with you?
You can listen to my music on myhoperadio.com and purchase from pentecostalpublishing.com. You can connect with me on Facebook – David Kraft or email me at [email protected]. I can schedule revivals and/or concerts and take orders for my CDs via email.