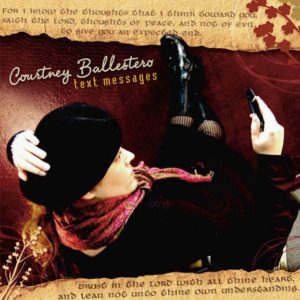 Tell us about your family. 
I'm married to Martyn Ballestero II and we have three hilarious and brilliant children: Jeron, Chloe, and Zion. We serve on the leadership team of New Destiny Worship Center and pastor the Spanish church, Nuevo Destino, in Clearwater, Florida. We also work in our community—Marty as a financial planner and myself as a social worker.
Describe your journey of faith. 
I have been blessed to have a solid foundation. My parents have weathered many storms—illness, financial hardship, watching love ones and mentors choose broader paths—they have been rock steady in showing me how to maintain a walk with God that is practical yet powerful. It is windy and twisty and sometimes feels like a runaway train, but my journey of faith has brought me to a place where I don't dictate or navigate … I just hold the map.
What is your music background? 
In 1980 my first solo was "Goin' Up Yonder" at Bishop Frank Munsey's church, Evangelistic Temple, in Hammond, Indiana. I was four and in serious need of speech for my "r" controlled articulation…"Goin' up da ondo to be wif my Yawd." My Mom has the 8-track I think. Growing up I was classically trained in piano and voice and then lost all confidence when I had to contemplate lead sheets and chord charts in college. So I dropped out of the music program at IBC and graduated with a degree in theology. I always regretted that. I kind of gave up writing and singing and playing after that until around 2000 or so and God unlocked that creaky door again. I started writing praise and worship music for our church choir projects and by request for various projects.
Do you write your own songs?
For this project, I wrote all the music. In the past I have co-written with my sister-in-law Kim Ballestero and Elise Webster for children's projects and choir recordings. I usually start with a theme or a Scripture and build a story from there. I don't co-write a lot because my music tends to be therapeutic and come from prayer place. Also no one like to write with me because I'm a tough critic. 🙂
What specific themes do you cover in your songs? Why? 
In 2007 we experienced quite a few twists and turns in our journey—a lot of loss both financially and personally. Trusting God, finding Him among the ruins, understanding His purpose, acceptance, experiencing His healing and mercy, and realizing His choice of weaponry in our trials (praise and worship), etc. It sounds like Songwriting 101 themes but they were really my daily bread. My album was the soundtrack for my life. And as I travel and share the messages in those songs I find that it is pertinent in the lives of so many right now.
What was the vision of your latest CD?
The emotion behind the music is pretty palpable on the CD. You can feel the journey. The songs were therapeutic because God sent them to me to sing to myself during a pretty brutal time in our lives. My husband and I went through a profound loss personally that affected every aspect of our lives. We were in ministry but also had businesses in the community. We were some of the first to get hit when the economy tanked. It was sent to ruin us, but God used it for good. Marty decided we should title the album Text Messages because all throughout the process, God would send His words from His holy text to minister to us at the exact moment we needed it. My husband said if we never sold one album it was still worth it because we dedicated the project as a memorial to God for His lingering presence throughout our wilderness.
What do you feel is the most rewarding aspect of your ministry?
I had a friend call me from a campmeeting in another state screaming, "They're singing one of your songs!" That was cool and someone had one of my songs in their wedding. On the flip side we were at a Youth Rally and they were singing several of our Praise Pak songs and they were nearly unrecognizable—completely murdered. It was hilarious and we like to call that the "deconstructed" versions. Recently my husband was humming one of my songs and asked my son's friend, "Do you know this song?" To which she responded, "Yeah, your wife wrote that song." There is always an equalizer.
What is the best advise you have ever been given?
Do it. Pursue it passionately, but be ministry minded and not industry minded. As long as your goal is to be a praiser that God seeks out, then make it your mission. Be authentic. Be real.
What is your favorite Scripture in the Bible?
Philippians 4:11: "Not that I speak in respect of want: for I have learned, in whatsoever state I am, [therewith] to be content."
Ten years from now you will be…
Man I hope we're in Heaven. Seriously, let's wrap this thing up and get it to go!
If you could sing anywhere in the world, where would that be?
I am asking God if I could pretty please go to Australia. I am slightly obsessed right now. I don't care if it's a soapbox on a street corner or the Sydney opera house, I want to sing somewhere on the continent of Australia before He comes back!
What would you do with a million dollars?
I would buy side-by-side cabins on the Michigan District Campgrounds for me and my sister-in-law Marisa Hartzell. We would just spend whole summers there cruising around on our golf carts. If you have ever been there, then you understand. To our kids it's Shangri La, Disney World, and the Promised Land all wrapped in one.
Who do you want to send a 'shout out' to?
To my in-laws Martyn and Marcia Ballestero. They have both endured the loss of both of their mothers within two months of each other. Despite that deep sadness, they have kept their incredible humor intact. I am very blessed to have them in my life.
Where can we listen, purchase, and connect with you? 
You can listen on myhoperadio.com and purchase through pentecostalpublishing.com, CD Baby, and iTunes. You can contact me on Facebook.