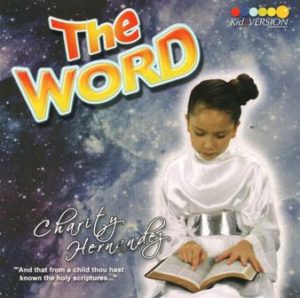 Tell us a little about your family.
My family has a very brave background (considering that our last name, "Hernandez", means "Bold Voyager.") My father is an evangelist, and my mother is a phenomenal sax player. My mother came from a Catholic background, but was converted at the age of twenty-one. My father was raised in the church all his life.
Describe your spiritual journey. 
I was four years of age when I received the baptism of the Holy Ghost and seven when I was baptized in Jesus' name. I received the Holy Ghost at Brother Billy Cole's last crusade in Richmond, Virginia. My mother explained it as God's light coming down on me, so I decided I wanted it. And, because I wanted it Jesus gave it to me that night. A few years later, I got baptized at Brother Art Hodges' church in Chula Vista, California.
What is your favorite Scripture in the Bible? 
Philippians 3:14: "I press toward the mark for the prize of the high calling of God in Christ Jesus." This is my favorite scripture because it tells you to KEEP GOING! 🙂
What is your music background? 
Our kids music ministry started very simple. I have always loved to sing, so in order for me to learn scripture in a fun way, we made, "SCRIPTURE SONGS." We made scripture songs by taking scriptures and putting melodies to them. It was a great way to learn. When I would start singing those little melodies in people's cars when they picked us up from the airport, they would say things like, "Where did you get that song from?" or, "What CD is that?" The answer was always, "Well, we made it up." Then, they would tell my parents that they should make a CD out of the melodies. My parents thought about it for some time, but then made their final decision to make the CD – and that is how it started.
What is one of your favorite songs to sing? Why is it your favorite?
My favorite song to sing is, "Hosanna", because I really like the words. The words of the song explain the coming of the Lord and when I sing it I feel peaceful inside.
Do you write your own songs? 
I have written a few songs just for fun but most of the time I like to sing songs that I have heard before.
Where can we listen, purchase, and connect with you? 
You can hear samples of "The Word" CD on our website, www.kidzversion.com. They can also purchase the CDs through that website, or through the Pentecostal Publishing House.
Fun Stuff
What would you do with a million dollars? 
FIRST OF ALL, I WOULD PAY MY TITHES! Then I would buy an open top convertible, a really fancy house, and maybe a dog.
What time in history would you like to visit for a week? 
That's a hard question, but probably the Renaissance, because it was flourishing with art, color, and music! Plus, their clothes back then were magnificent!
What is your favorite breakfast cereal? 
Raisin Bran — and also Apple Jacks.
What is your dream vacation spot? 
HAWAII!! ALOHA!!
Who do you want to send a 'shout out' to? 
J-E-S-U-S … JESUS!