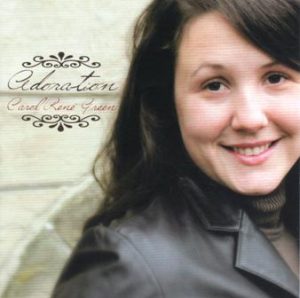 Tell us a little about your family.
My husband, Steve Green, and I started a church four years ago in Grand Rapids, Michigan. We have five (yes, I said five) beautiful, amazing boys: Nathaniel, Zachary, Luke, Noah, and Silas. Needless to say I never ever have a dull moment. Our lives are crazy but I feel in the complete will of God!
Describe your spiritual journey.
I was filled with the Holy Ghost and baptized at six. As early back as I can remember, I have always craved the Holy Ghost in my life and have had a love for church. My prayer life really became more solidified when I was a teenager. My family went through trying times and it really made have to get a hold of God for myself and forge out my convictions. It was those times that truly made me know what it was I believed. Looking back I'm so grateful to the Lord, who used those circumstances to draw me closer to Him.
What is your favorite Scripture in the Bible?
Ecclesiastes 3:11: "Yet God has made everything beautiful for its own time. He has planted eternity in the human heart, but even so, people cannot see the whole scope of God's work from beginning to end."
What is your music background?
I was four years old when I first sang in church. My older sister was the church's piano player and she would let me sit behind her and play the tambourine. Man, I loved those days! I remember around eleven I sincerely prayed and told God if He would teach me to sing and play the piano, I would sing and play only for Him. Singing came naturally to me but playing the piano was more of a challenge. I gave up thinking that maybe it wasn't my thing and I needed to accept that. One night my husband was preaching a revival, and I went to the altar. I was just so broken-hearted about not being able to play the piano I just wept before God and said, "Lord you know my heart's desire." I really felt Him move on my heart. I got up and went to the piano and began to play, and that night it felt like everything just clicked for me. God blessed me that night in a way I had never experienced, and I could play the piano for Him.
You wrote/co-wrote all the songs on your CD-what inspires you to write? Tell us about the process.
I wrote most of the music and lyrics myself. My husband wrote some and I got a lot of help polishing up some songs from different people. My songs really come from experiences with God or how He walked with me through certain things. Other times it just has poured out of my heart. Each song has its own story.
What is the best musical advice you have ever been given from a mentor or influence in music ministry?
My mother. She has gone on to be with the Lord, but she told me, "Always sing about the name of Jesus."
What is one of your favorite songs to sing? Why is it your favorite?
I love singing Scripture songs-especially to my boys. There is something about singing the Word. It uplifts, it teaches, and it breaks the yoke!
What do you feel is the most rewarding aspect of your ministry?
When people tell me they were listening to my CD and they just felt the presence of God and they were strengthened or encouraged. I think, "Thank you, Lord, that You would choose to use me to encourage Your people." I feel humbled by His goodness.
Where can we listen, purchase, and connect with you?
You can listen to my CD on Myhoperadio.com and you can purchase my CD through the Pentecostal Publishing House or [email protected].
Fun Stuff
 What would you do with a million dollars?
If I had a million dollars, I would probably build another church.
What time in history would you like to visit for a week?
I think I would love to visit the Azusa street revival.
What is your favorite breakfast cereal?
Captain Crunch
What is your dream vacation spot?
I would love to go to Israel. I would love to take my boys down the same streets Jesus walked down.
Who do you want to send a 'shout out' to?
To my husband, Steve Green. I am who I am in God because you have led me there, and I am forever grateful for that!