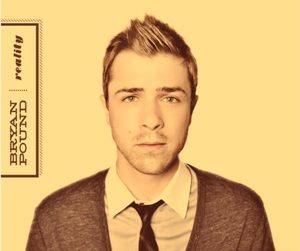 Tell us a little about your family.
I grew up being an evangelist kid, which means I was home schooled, lived in a little motor home, traveled the country and had revival almost every night! (That's how we had church back then!) Back then, of course, we all hated it. And by we, I mean, me! Ha But looking back, it was a time living by faith and trusting that God will always make a way. I learned that best from my mother and father, James and Teresa Pound.
Describe your spiritual journey.
It seems that my journey has led me to emotional and spiritual healing. A large portion of my earlier days were filled with "why's." Now, thankfully, I have the answers to those questions. I just need to put the head knowledge into action! Head to heart!
What is your favorite Scripture in the Bible? 
1 Timothy 4:10 "That is why we labor and strive, because we have put our hope in the living God, who is the Savior of all people, and especially of those who believe." NIV
What is your music background? (Who influenced you, when did you start singing, etc…) 
In the earlier days it was almost all Michael English. He was the man back in the day. Then I heard "Order My Steps" and "For Every Mountain," and that started my gospel plunge. I love Kim Burrel, Kurt Carr Singers, Kirk Franklin (the group of course, cause he can't sing! ha). I believe I could really go on and on with this question! There are so many talented and gifted singers!
When I was about three, My parents made my sister and I sing before he preached. However, I didn't really get into singing until I was in high school! I was so shy and introverted…it's amazing what God has done to my little shell that I stayed in growing up.
What is one of your favorite songs to sing? Why is it your favorite?
Wow…that changes all the time. Right now it is an old hymn, "Just To Walk With Him." The melody is just so comforting and inviting of God's Spirit….and the lyrics just get me. Helps keep everything in life in perspective.
Do you write your own songs? (If so, discuss your usual songwriting process.) 
Yes, I write all of my songs. I feel, if I am worth my salt, put something new out there! Just don't rehash what everyone else has done.
Well, it depends. Recently, we received a tongues and interpretation at church and God told me to write a song about it. As I began to write the interpretation out, God just began to give me the song. That's how "Faith" and "Find Rest" happened as well (minus the interpretation). Others have come with a thought, and years later it just flowed. I believe every song has a birthing date. When it is time for it, it will happen!
Where can we listen, purchase, and connect with you? 
My music is available on itunes, amazon mp3, cdbaby, and digstation.com. Also, you can purchase a hard copy on bryanpound.com.
Fun Stuff
What would you do with a million dollars? 
FIRST–pay tithes of course! ha. Then, pay off all of my debt, set up investments and savings, and then—HAVE FUN! Travel!
What time in history would you like to visit for a week?
I would have loved to been a disciple for a week, and be the one who walked on water!
What is your favorite breakfast cereal?
If I'm feeling healthy, some sort of granola and cranberry mix! If I'm not, either Pops or Lucky Charms!! (gotta eat all the marshmallows!)
What is your dream vacation spot?
I get bored fast….so, I would like every vacation to be different! Too much stuff to see!
Who do you want to send a 'shout out' to?
My parents, James and Teresa Pound, and the greatest pastor and first lady I know, Pastor Joe and Jo Forbush! Love them!