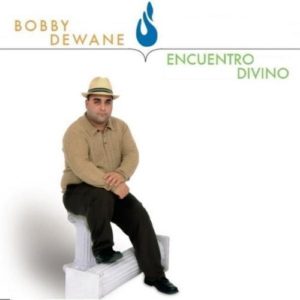 My Hope Radio: In three or four sentences, how would you describe your journey of faith?
Bobby Dewane: The biggest thing I learned about living for God is if we let Him guide our lives, we always end up at the right destination. If we try to guide ourselves, it leaves for a very unpleasant and undesirable scenic route. God way is always faster and better in the end!
My Hope Radio: En tres o cuatro oraciones, cómo describiría usted su viaje de fe?
Bobby Dewane: La cosa más grande que aprendí acerca de vivir para Dios es si dejamos que Dios nos dirige la vida siempre llegamos en el buen destino. Si tratamos de guiar nuestras propias vidas, sale para una ruta muy desagradable e indeseable. ¡El camino de Dios siempre es más rápida y mejor al fin!
MHR: What is your favorite Scripture in the Bible?
BD: Genesis 1:1, "In the beginning God created the heaven and the earth."
MHR: ¿Cuál es su Escritura favorita en la Biblia?
BD: Génesis 1:1, "En el principio Dios creó el cielo y la tierra".
MHR: What is your music background? (Who influenced you, when did you start singing, etc…)
BD: My father was a drummer and I grew up with drumsticks in my hand. That didn't mean I could play well as a child, that just means my parents put up with allot of racket in the house. I can say the same about singing. In high school, God placed good mentors and teachers in my life to give direction to the desire I had to express myself musically.
MHR: Qué es su fondo de música? (Quien le influyó a usted, cuándo empezó a cantar, etc…)
BD: Mi padre fue un baterista y yo crecí con palillos en la mano. Eso no significa que podría jugar bien de niño, pero significa que mis padres soportaban mucho ruido en la casa. Puedo decir el mismo acerca de cantar. En el instituto, Dios colocó mentores y maestros buenos en mi vida para dar dirección al deseo que tuve para expresarme musicalmente.
MHR: What specific themes do you cover in your songs? Why?
BD: My conviction is that music is spiritual. When I sing to Him, it is more intimate than just praying alone. Many of my songs are really prayers that I spoke to God behind a piano, alone at the church in deep times of prayer. For me, when I worship and talk to Him while I play Him a song of worship, I always feel His presence in a special way. I know why music was such a notable way of worship for King David. In short, many songs are written in solitude while in prayer.
MHR: ¿Qué temas específicos cubre usted en sus canciones? ¿Por qué?
BD: Mi convicción es que la música es espiritual. Cuando Le canto a El, es más íntimo que orar solo. Muchas de mis canciones son realmente oraciones que oré a Dios detrás de un piano, solo en la iglesia en tiempos de oración profundos. Para mí, cuando alabo y hablo con El mientras toco una canción de alabanza, yo siempre siento Su presencia en una manera especial. Sé por qué la música era una manera tan notable para el Rey David. En resumen, muchas canciones son escritas en la soledad y durante la oración.
MHR: Where can we listen, purchase, and connect with you?
BD: Music can be bought online (search Bobby Dewane), or at the pentecostalpublishing.com
MHR: ¿Dónde podemos escuchar y comprar su musica y dónde podemos conectar con usted?
BD: La música puede ser comprada en línea (la búsqueda Bobby Dewane), o a pentecostalpublishing.com
Fun Stuff
Bagels or Donuts?
Bagels
Fruit or Veggies?
Fruit
Mayonnaise or Mustard?
Mustard
Pen or Pencil?
Pen
Elevator or Stairs?
Elevator