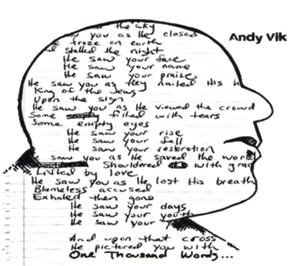 Tell us about your family.
I have been married to my beautiful wife, Brandy, for six years.  She and I have two little girls: Alivia, age six, and Audrey, age two.
Describe your spiritual journey. 
I was blessed to be raised in the church.  I've slept in the pews and danced in the aisles.  I received the Holy Ghost and was baptized when I was seven.  My spiritual growth has continued throughout my life.  I would say in high school I began to understand my potential and took the initiative to pursue God.
What was the defining moment in your pursuit of God's will?
In high school, Bro. Eli Hernandez visited our chapel service.  At the end of his message, he asked the students to write down the thing that holds us back in our relationship with God.  Then he had us literally nail the paper to a cross.  I had written down 'Fear.'  I recall this moment whenever I face the fear of standing out or trying something new.  Years later while attending the University of Wisconsin-Milwaukee, I was a part of the UWM Gospel Choir.  By this time in life, I had become accustomed to making myself available in leadership roles and becoming involved.  From being involved in the UWM Gospel Choir, I still have valuable connections and experiences I draw from to this day.  The piece of paper that said "Fear" has likely faded away, but overcoming that word has been defining for me.
What is your music background?
My musical influences range from albums I've listened to, concerts I've seen, mentors in my life, and the "irons" that have sharpened me.  My mom was a music teacher and directed the choir, so music was always in the home.  Also listening to artists such as Fred Hammond and Hillsong United have inspired me.
What is the concept/vision of your CD?
The album One Thousand Words consists of fifteen original praise and worship songs that discuss lifting up our voices to God in praise, how God will restore us through our struggles, and simply being thankful.  The overall theme is that God cares about you.  He knows your name.  He saw you fall and saw you rise.  He sees your days and years.  If a picture is worth one thousand words and Jesus pictured you on the cross then He has at least one thousand words to describe you.
What is your favorite part of the "album-making process"?
My favorite part of the album-making process was seeing a song develop from pen and paper all the way to listing to it on your headphones.  The team that worked on this project were talented individuals were recording and making an album for the first time.  The mistakes made in the process resulted in some of the most memorial moments.  Somewhere, there is a folder that contains clips of embarrassing flubs, flat notes and any odd comment the mic picked up.  These recordings will no doubt resurface at some point.  Everything was new to us, so our successes were very exiting too.
What is one of your musical dreams or goals that you would love to see come to pass?
I would love to record a live album one day, but just continuing to work and develop my local church worship team is my goal.
What do you feel is the most rewarding aspect of your ministry?
It is very rewarding to be a part of the body of Christ in general – to be entrusted to sing and lead others in worship.  Also the times that someone has mentioned to me that a song or lyric affected them and helped them in some way is very rewarding.
What other talents do you have?
Being a Dad and making my girls laugh!
Any loves, other than music?
Sports – baseball, basketball.  Following local sports teams in Wisconsin like the Brewers, Packers, and Bucks.  And Christmas…I love Christmas.
Who do you want to send a 'shout out' to?
My family.  My church family at Elim Tabernacle (Greenfield, WI).  Pastor Steve Rogers.  Also the guys who worked on the album – Josh Taylor, Yacharmi Smith, and Brent Mayek.
Where can we listen, purchase, and connect with you?
You can listen at myhoperadio.com, purchase at pentecostalpublishing.com and reverbnation.com/andyvik, and connect at facebook.com/andyvikOneThousandWords, and twitter.com/andyvik.