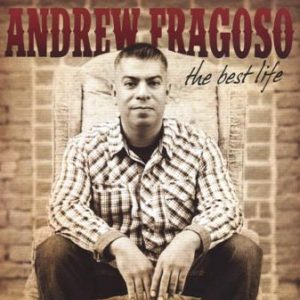 Tell us a little about your family.
My name is Andrew Fragoso and I'm a licensed United Pentecostal Church International minister and Apostolic recording artist. I've been married to my beautiful wife, Tracye, for twenty-one years and we have three wonderful children: Andrew Fragoso II (12), Amanda Lauren (10), and Andrew Joshua affectionately known by us all as A.J. (9). I attend the Gospel Lighthouse Church of Arroyo Grande California, pastored by Joseph Domingues, former UPCI Missionary to Portugal.
Describe your spiritual journey. 
I didn't grow up in an Apostolic church. But there came a time when I was seventeen that I felt that there was more for me in the Word of God. I was working with a young long-haired Pentecostal girl named Stephaney Abbott (now Stephaney Parkey) and she began to witness to me and then invite me to her church. I visited First Pentecostal Church of Tulare California which was Pastored by Stephaney's father, Ronald Abbott, and received my first taste of a One-God-Apostolic-tongue-talking church. Soon after that first visit in March of 1988, I was baptized in the name of the Lord Jesus Christ for the remission of my sins. I had already received the baptism of the Holy Ghost at an Assembly of God Church in Visalia, California, and after my conversion I began attending First Pentecostal Church in Tulare. I think that being an Apostolic is the greatest thing in the world! To be called is one thing. But to be called and chosen is entirely another. I wouldn't trade this way for anything in the world!!!
 What is your music background? 
Music appreciation is one of the very first things I learned as a child. I could honestly say that my mother taught me to love music and song. Even before my conversion I loved music and I loved to sing. It wasn't until I was in church and attending one of my very first conferences (Landmark Conference held in Stockton, California) that I experienced someone singing and worshiping under the anointing and power of the Holy Ghost. I would have to say that the first Apostolic artist who influenced me to sing and record my music was Brother Timothy Spell. Other Apostolic influences include: Sister Nancy Grandquist, Sister Bobbie Shoemake, Seth Boyte, the CLC Youth Choir, Emily Carrillo Yost, as well as Christian Gospel artists Fred Hammond, Kirk Franklin, Israel Houghton, and Marvin Sapp. Other influences also include Christian artists Steven Curtis Chapman and Toby Mac just to name a few!
Describe the nature of your ministry. 
Since the time of my conversion I have been involved in one way or another in ministry. My pastor gave me an opportunity to preach at youth service shortly after coming to God. From that time on I've had many opportunities to sing and preach at various events in my district: youth services, sectional youth meetings, revival services, the Western District Camp Meeting, and every type of local Church Ministry we have. I'm involved and have been involved with the prison ministry, youth correctional facility ministry, outreach park services, convalescent ministry, drama ministry and I sing or preach in one of the aforementioned whether locally or abroad on a regular basis.
What was the defining moment in your pursuit of God's will?
My goal in life is to devote all of the time that I have to ministry. Whether it's singing, preaching, or ministering, my heart's desire is to do it full time. I'm open to any and all opportunities available to me. There came a point in my life when I realized it was necessary for me to accomplish this dream of full-time ministry. Regardless of how long it would take or whether or not I'm successful monetarily, I must accomplish the task the Lord has given me to do.
How has your music changed since you started in the ministry? Where do you see it headed?
When I first began to sing in church, I was scared half to death. I can remember the first time I had an opportunity to sing in Church. Someone had told the church choir director that I had a good voice so she gave me a shot. I got the microphone, opened my mouth, and began to sing my first line. The choir director said to me "Louder, Andrew." I tried to increase the volume. "Louder, Andrew!" I tried again. She then told me, "Maybe you should play the drums." If I had used that experience as the only reference for the remainder of my life, I would have never tried to sing again.
My first album There is only one God was exactly that, my first album. A lot of people were blessed by it and appreciated my first effort. My second album The Best Life is a little closer to what I'm trying to accomplish in my music ministry. I also have new material waiting in the wings for my next album!
How would you encourage someone desiring to pursue music as a ministry?
To the one who has a call to minister in music: "Sing often and everywhere you go!" You may say to yourself, "I have no place to sing." There are many places to sing and be used of God, you just have to look for them. Not everyone can sing. Maybe you're still developing your voice? If you are, keep going! God has a place for you and desires to use you. Don't ever give up!!! Where there is no vision the people perish (Proverbs 29:18). Dream, and dream big! If you never record, keep that love for music and song deep in your heart.
Where can we listen, purchase, and connect with you?
You can find my music, Only One God merchandise, and contact information at www.onlyonegod.com. I would love to hear from any and all of you. My music is on itunes and pentecostalpublishing.com and I'm also on Twitter, Facebook and Apostolic Live. God Bless!!!