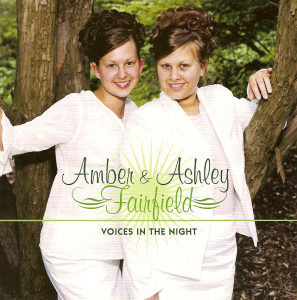 My Hope Radio: In three or four sentences, how would you describe your journey of faith?
Amber Fairfield Blevons: I've been in church my entire life, but my faith is continually growing. Recently, God has allowed me to go through some things that has helped me to exercise my faith in new ways. When life's circumstances seem overwhelming, I turn to the Word of God, and that gives me so much more strength than I thought I would ever have.
Ashley Fairfield: When I was five, my sister and I stayed the night with some friends. The following morning we all went to a nearby pier to fish and on the way back, my life was nearly taken from me. We stood on a sidewalk, looking from left to right as cars passed by on a busy street. Being very young and hyper I was ready. to. GO! and darted out, but a car was coming. Sister Patty shouted out the name of Jesus and I stopped on one foot in mid-air… something that should have been impossible to do for a five year old at high speed. The faith of my praying mother at home and the faith of a praying friend has taught me that Jesus is always just a call away. Matthew 17:20, "If ye have faith as a grain of mustard seed, ye shall say unto this mountain, Remove hence to yonder place; and it shall remove; and nothing shall be impossible unto you." My faith in Jesus has grown to new levels as I've experienced challenges that life brings. I'm still learning how to walk in faith, but knowing that I have Jesus to follow makes this journey an easier path to walk.
MHR: What is your favorite Scripture in the Bible?
AFB: Philippians 4:8, "Finally, brethren, whatsoever things are true, whatsoever things are honest, whatsoever things are just, whatsoever things are pure, whatsoever things are lovely, whatsoever things are of good report; if there be any virtue, and if there be any praise, think on these things." Having the right mindset is half the battle—everything else falls in line after that.
AF: Proverbs 16:24, "Pleasant words are as an honeycomb, sweet to the soul, and health to the bones." My love language is words of affirmation; We all love being the recipient of kind words, however, it has become a language that I've had to learn how to speak to others. In Matthew 12:34 Jesus said "for out of the abundance of the heart the mouth speaketh." Mean and hateful words are as a salt poured into an open wound, but loving and genuinely kind words can be a healing balm to the hurting and helpless soul.
MHR: What is your music background? (Who influenced you, when did you start singing, etc…)
AFB: I never asked to sing. I was scared, shy, and didn't want anyone to look at me. When I was eleven, I sang a solo in my school play and my pastor, Spencer McCool Sr., heard me. He told me to find a song to sing in church and I was terrified! He made a deal with me by volunteering himself and his daughter Alonna Livingston to sing with me for my first time. Immediately, I started getting invitations to sing at rallies, camps, conferences, etc. A few years later, my sister Ashley became old enough to start singing with me. The rest is history!! The McCools and Livingstons have been the greatest music influence in my life. Since the first time I sang, a lot of things have changed. My dad, Rick Fairfield, took the pastorate of a church, of which I'm now the music minister. I play piano, organ, sing, direct choir, and lead the praise team. Needless to say, I'm not scared anymore, haha! For that I'm so thankful, because music is my true calling from God.
AF:  At my kindergarten graduation when all the other kids said they wanted to be police officers, firemen, and school teachers when they grew up, I said I wanted to be a singer. I loved to sing even though I couldn't carry a tune to save my poor little life! I was only eleven when I first sang in our church and shortly thereafter, Amber and I started singing at rallies, camp meetings, and special services as a duet. I was terrified, still couldn't carry a tune, and I didn't project like I needed to. After getting tired of being told to "eat the mic" by everyone around me, I finally learned to sing out loud! Today, I've been singing for fourteen years, I'm a praise and worship leader and choir director in my church, and a soloist. In 2003, Amber and I recorded our first album, "Voices In The Night". We plan to record again in the future, but no plans are in effect as of yet. Growing up, I was influenced most by The Livingstons, Cory McCool, Spencer McCool Jr., Renee Warman, and of course my older sister, Amber. I have been very blessed to have some amazingly talented and anointed singers that I can call my friends.
MHR: What specific themes do you cover in your songs? Why?
AFB: Anything that specifically speaks the name of Jesus, The power in His blood, songs that are doctrinally correct. Spiritually moving songs Whether I'm singing a special, picking a choir song, or a worship song for church, I try to find songs that are uplifting, relevant for the audience, and just truly worshipful!
AF: Our title track, "Voices In The Night", was written for us by Denny Livingston and it truly is our heartbeat. When our friends and peers decided to leave the safety and protection of God's arms, we stood firmly on the truth and the Word that Jesus placed as a guide for all to follow and lead after. We sing of the love of Jesus and the safety found in His loving and gentle arms.
MHR: Do you write your own songs? (If so, discuss your usual songwriting process.)
AFB: I've written and recorded one song, "Send Down the Rain" on our album Voices in the Night, which was co-written with Denny Livingston. I also have many halfway written songs. It's a new venture for me and I still find it a little intimidating. Hopefully on our next album I will have more of my own lyrics recorded.
AF: I am what you would call a closet songwriter. I have many attempted-songs written down but nothing recorded, yet. I find inspiration through the preached Word, reading the Word, and situations life takes me through.
MHR: Where can we listen, purchase, and connect with you?
For information about our music, check out our facebook page: Amber & Ashley Fairfield. Just send a message if you are interested in purchasing our music! Some of our music can be heard at: www.myspace.com/AmberandAshleyFairfieldVoicesInTheNight
Fun Stuff – Amber
Multiple Choice Flip Phone or Slide Phone?
I'm of the iPhone fan base
Times New Roman or Other (font)?
Times New Roman
Painting or Photo?
Photo
Pancakes or Waffles?
Waffles – but my husband makes an INCREDIBLE Nutella crepe!!!
Bookmark or Dog ear?
Bookmark
Fun Stuff – Ashley
Mechanical Pencil or Wood Pencil?
Wood Pencil
Cupcakes or Muffins?
Muffins
McDonalds or Burger King?
Home cooking kind of girl
Dollar Bill or Dollar Coin?
Dollar Bill
Ugly car that runs like a dream or beautiful car that breaks down?
My first vehicle was a 1988 Cadillac Seville that was a lovely shade of banana yellow missing the front-right bumper, which only ran like a dream after all for shocks and struts were replaced; so from experience, I would choose the ugly car that runs like a dream! =)